Specialists In Product Development Of Engineered Castings and Forgings
WELD2CAST Engineering's speciality is to help customers to convert and design simple and complex welding constructions into weight-saving and cost-efficient engineered CASTINGS or FORGINGS.
The key to a successful product development is communication. Your personal Sales Engineer will work closely with you, advising you on every aspect of the project, from the design to the most appropriate development and manufacturing process to use.
WELD2CAST's R&D and technical teams have more than 25 years of combined experience in the development and design of complex welding constructions into weight-optimised and cost-efficient engineered components.
Converting fabrications, weldments or solid machined assemblies into one-piece CASTINGS or FORGINGS offers significant advantages:
Your Engineering Advantages of converting Welding-2-Casting
Increase product performance (Strength, Wear Resistance, Toughness)
Reduces number of components
Reduces weight
Reduces total cost by up to 50%
Removes stress in joints and welding deformations with a one-piece casting solution
Saves internal engineering time

Our Steps in the CASTING & FORGING Conversion Service:
Determine customer goals and priorities
Create CASTINGS or FORGINGS concept.
Collaborate with customer on design and material.
A final concept is presented, this includes a 3D printed model of final design.
Review prototype and production source options with the customer
Review additionally Add-Value services like, Machining, Surface Treatment, Assemblies and Product Stockkeepings needs.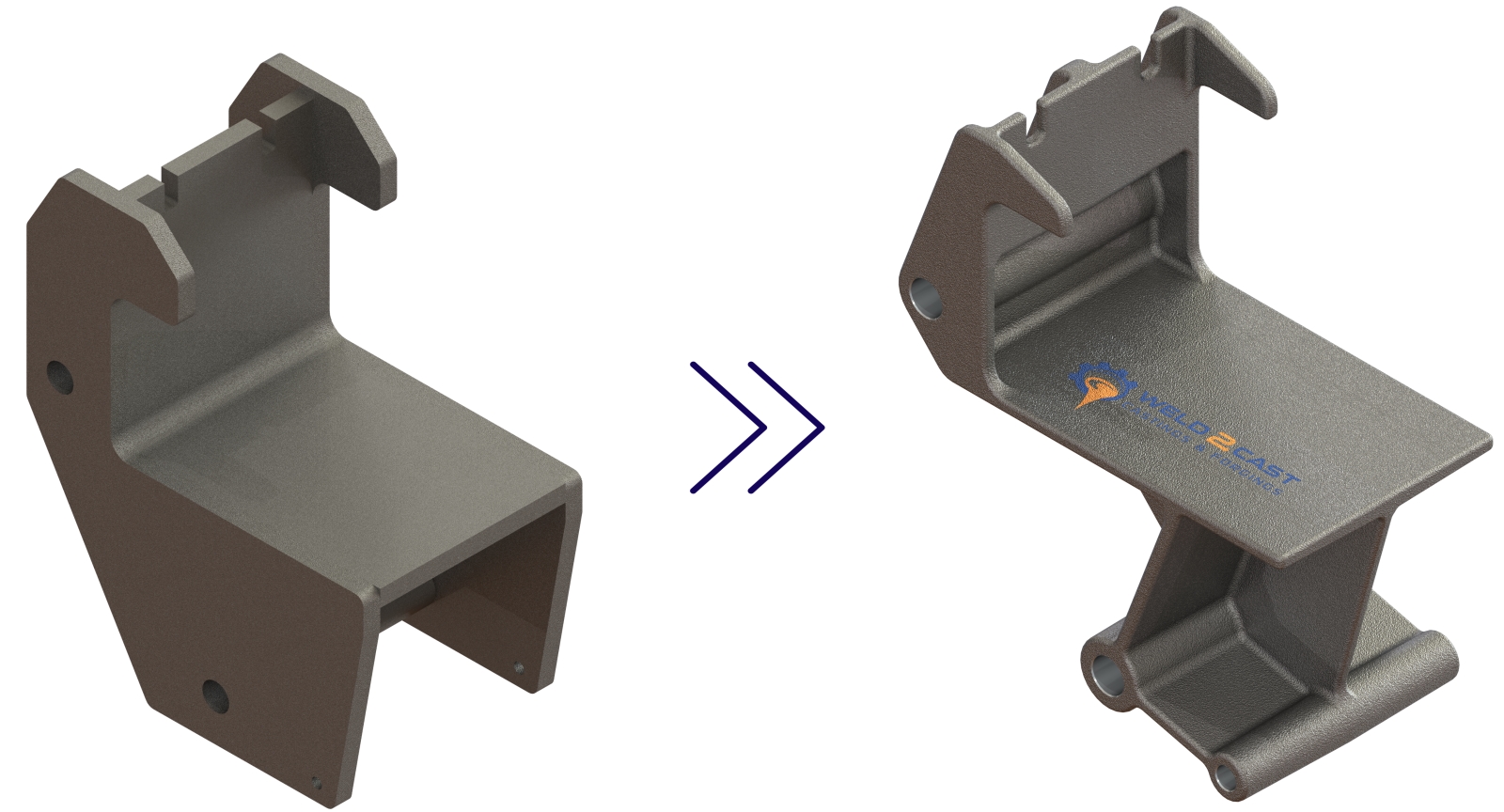 Weight And Cost Optimisation when Converting Welding-2-Casting
The key advantage of a casting conversion design is that it can be used to reduce costs.
This is primarily achieved by using less material, as the shape is optimised during the casting or forging of components, therefore there is no material waste.

Take Advantage of WELD2CAST's Engineering Service
Zero risk and 100% custom satisfaction.
NO engineering invoices until the drawings are approved.
NO tooling invoices until samples are approved.
NO production invoices for series production until the parts are delivered at your facilities.